---

Òscar Colomina i Bosch (*1977)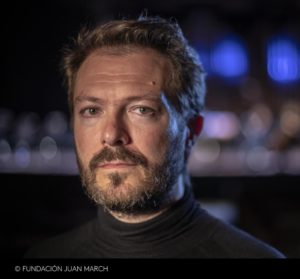 Dean of the Escuela Superior de Música Reina Sofía in Madrid since 2020, Òscar is a sought-after composer and conductor. Before relocating to Spain, he held important positions in the UK as Director of Music of The Yehudi Menuhin School (2017-2020) and Professor of Orchestration at the Royal Academy of Music (2013-2020). He has guest conducted and lectured at the Royal Conservatoire of The Hague – School for Young Talent,  the Akoesticum Talent Programme in Holland, and is part of the teaching faculty of Porto PianoFest.
A member of the Spanish National Youth Orchestra (performing with Carlo Maria Giulini and Gianandrea Noseda), he later pursued further studies at the Guildhall School of Music & Drama and Royal Academy of Music with Malcolm Singer and Simon Bainbridge (composition) and Alan Hazeldine (conducting), receiving advice from Sir Harrison Birtwistle, Sir Peter Maxwell Davies, Alexander Goehr and Julian Anderson.
A commission from the Yehudi Menuhin International Violin Competition, Shpigl for solo violin (2016), was described by American composer John Adams as 'a small masterpiece of both musical and dramatic imagination'. Impressed by the piece, Adams programmed Shpigl in the Los Angeles Philharmonic Green Umbrella Series  'Noon to Midnight' festival, inviting Òscar to attend the American premiere in the Walt Disney Concert Hall, Los Angeles.
Imatges (2021), written for the Iturbi Competition, has already received performances in Washington, New York and Hannover, with composer Benet Casablancas considering it 'an important addition to the Spanish Contemporary piano repertoire'.
Òscar's orchestral work, Entfaltung (2015), written for the Orquesta Sinfónica de Castilla y León, was praised by pianist and conductor Jean-Bernard Pommier, who wrote of Òscar's 'perfect control of orchestration and timing' and Entfaltung's 'strong and captivating music'.
His music has been conducted by Jaime Martín, Pablo González, Baldur Brönnimann, Álvaro Albiach and Christopher Austin. Other commissions and performances include the Aldeburgh Festival, Philharmonia Orchestra, Centro Nacional de Difusión Musical, Orquesta de Valencia, Orquesta Sinfónica del Principado de Asturias, Real Filharmonia de Galicia, Orchestra of the Swan, Jove Orquestra de la Generalitat Valenciana, Trío Arbós, Grup Instrumental de València and the Schubert Ensemble, in concert venues across the UK, USA, Spain, Portugal, France, Denmark, Italy and Armenia, numbering the Wigmore Hall, Royal Festival Hall, Queen Elizabeth Hall, Purcell Room, Yale and New York Universities, and in Spain Auditorio400, Teatros del Canal, Palau de la Música and Palau de les Arts in Valencia, ADDA, Auditorio de Zaragoza and Auditorio de Galicia among them. His compositions have been broadcast in Spain, Portugal, Mexico, Denmark and the USA.
His presence in international festivals includes Cheltenham Festival, Harrogate Festival, Gower Festival, Oundle Festival, Frontiers 2015 (Birmingham), Composers Now 2014 (New York), City of London Festival, Manchester QuartetFest, Contemporary Music Days (Armenia), the European Congress of Conservatoires, ENSEMS-València, Córdoba Contemporary Music Festival, Burgos Summer Festival, Música en Compostela or the Encuentro Internacional de Compositores in Mallorca, among others.
He has orchestrated works for Heinrich Schiff and the Kremerata Baltica (Gewandhaus, Leipzig 2009) for the Yehudi Menuhin International Competition (Beijing, 2012) and has enjoyed composition residencies at the Iturbi International Piano Competition (2021), London's Barbican Pit Theatre (2011), the Joven Orquesta Internacional Ciudad de Oviedo and in Cove Park (Scotland). In 2014 he was a jury member for the Valencia International Wind Band Competition.
As a conductor, Òscar was engaged to conduct the Orquesta de Valencia in the ENSEMS International Festival 2017, and has appeared in the Gstaad Menuhin Festival, Fundación Juan March and the Pau Casals International Festival. Recently invited to conduct the Youth Orchestras of the Bogotá Philharmonic Orchestra, he has conducted orchestras and ensembles including  the Royal Academy of Music New Music Ensemble, The Yehudi Menuhin School Orchestra, the Royal Conservatoire of the Hague – School for Young Talent's Atheneum Kamerorkest, Camerata XXI Chamber Orchestra, Orpheus Sinfonia (London) and the Conservatorio Superior de Castilla y León's New Music Ensemble.
Òscar is an Associate of the Royal Academy of Music, an honour awarded to alumni who have made a significant contribution to music and society.
---