Òscar's 6th season of continued association with Porto PianoFest
---
Since 2017, Òscar offers individual coaching and group lectures and seminars on how to develop individual musical interpretations at Porto PianoFest. This festival, quickly establishing itself as a referent in Portugal, has in its faculty pianists Jean Saulnier (University of Montreal), José Ramón Méndez (Northwestern University, Chicago) and course directors Nuno Marques and Mariel Mayz (CUNY).
Conference: Debussy's Images, vol.II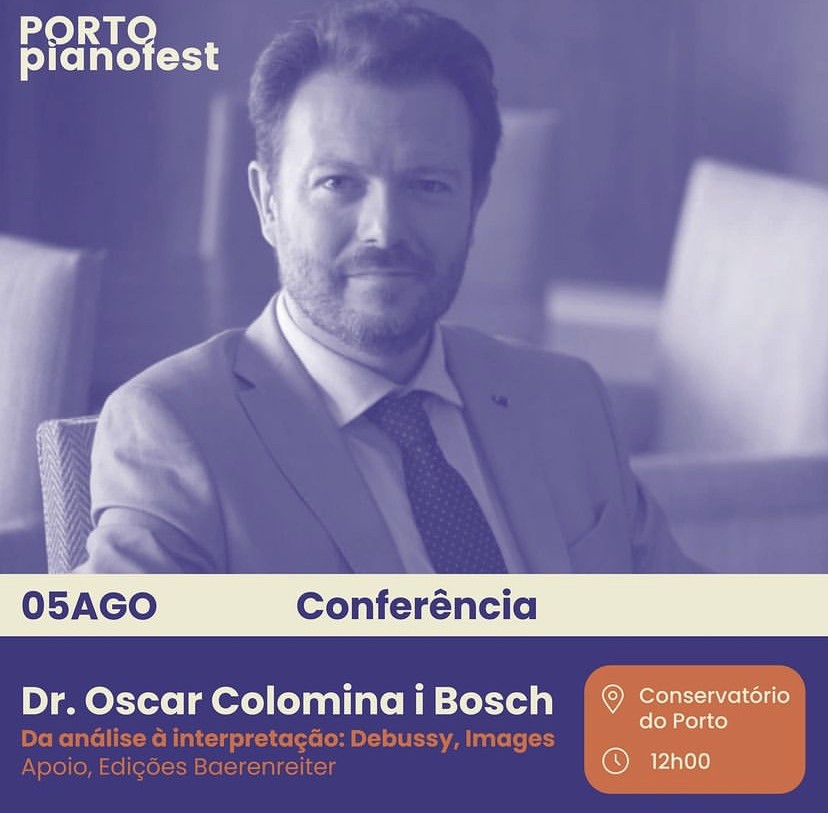 Apart from working with the young artists in one-to-one interpretation coachings, Òscar delivers a conference every year on how to approach the interpretation of a particular work. For the 2022 edition, the subject of the conference is Debussy's Images, vol.II, and more specifically, 'Et la lune descend sur la temple qui fut'.
Friday, 5th of August, 12.00hrs, Conservatorio do Porto
This year, Òscar's conference is kindly supported by Baerenreiter editions.
---
Porto PianoFest 2022: full immersion post-COVID
Porto Pianofest resumes its original and entirely face-to-face format for its seventh edition, bringing music to the main venues and cultural spaces in the city of Porto, from August 1st to 9th.
To mark the start of the PianoFest, Festival Director Nuno Marques, Portuguese pianist residing in New York, leads an open seven-hour piano marathon in Praça D. João I, on Friday the 29th of July. In his words:
"this is an event of sharing, of exchange, between artists, the city and people, those from here and those who visit us. That's why we will tour 6 halls in nine days, bringing musicians from more than 8 countries to present their art, but also to share the city's culture, talent and historical heritage with the people" Nuno Marques, Festival Director
An eclectic and global program: Clarice Assad and Josu de Solaun debut in Portugal
In the official program of the 7th edition of Porto Pianofest, there are ten artists who make their debut in Portugal.
The opening concert at Casa da Música will be the debut in Portugal of the Brazilian group Clarice Assad Trio, one of the great figures in the fusion of classical music, jazz, avant-garde, MBP and world music. Founded by celebrated artist Clarice Assad and complemented by the phenomenal Keita Ogawa (percussionist) and João Luiz Rezende (guitarist), all internationally renowned musicians and Grammy Award winners, this energetic and daring group has gained a growing international reputation.
The following dates are marked by performances by artists, such as the Spanish pianist José Ramón Méndez – who returns to the Festival for his seventh recital. Also, Josu de Solaun – award-winner in 2021 of the International Classical Music Awards and one of the most outstanding Spanish musicians, also performs for the first time in Portugal, exclusively at Porto Pianofest. Added to this are Jean Saulnier – pianist and professor at the Faculty of Music of the University of Montréal for over 20 years.