The Spanish composer/conductor will take up the post in September 2017, becoming the sixth Director of Music of the internationally renown specialist music school founded by Lord Menuhin in 1963 in Surrey, England.
---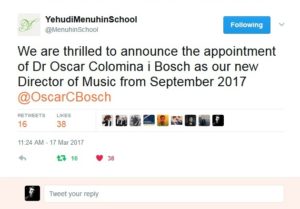 Following a wide-ranging advertising and recruitment campaign which attracted an extremely strong field of highly-qualified candidates from across the world, the Governors of the Yehudi Menuhin School are delighted to announce the appointment of Dr. Òscar Colomina i Bosch as Director of Music with effect from 1st of September, 2017. Òscar will become just the sixth Director of Music in the school's history.
Professor of orchestration at the Royal Academy of Music and teacher at The Yehudi Menuhin School, Dr. Òscar Colomina i Bosch is a sought-after composer and conductor who has guest conducted and lectured at the Royal Conservatoire of The Hague – School for Young Talent and is part of the teaching faculty of the Akoesticum Talent Programme in Holland, alongside some of Europe's leading chamber music specialists. A member of the Spanish National Youth Orchestra (performing with Carlo Maria Giulini and Gianandrea Noseda), he later pursued further studies at the Guildhall School of Music & Drama and Royal Academy of Music in composition and conducting.
Recent successes include a commission from the Yehudi Menuhin International Violin Competition, Shpigl  (2016), which was described by American composer John Adams as 'a small masterpiece of both musical and dramatic imagination'. Subsequently, Adams and the Los Angeles Philharmonic invited Òscar to attend the American premiere in the Walt Disney Concert Hall. Òscar's most recent orchestral work, Entfaltung (2015), was praised by legendary pianist and conductor Jean-Bernard Pommier, who wrote of Òscar's 'perfect control of orchestration and timing' and Entfaltung's 'strong and captivating music'.
On the 23rd of June, he will conduct the Orquestra de València in a programme that will include Entfaltung and Brahms' second symphony. He was also Principal Conductor of the City of Salamanca Youth Orchestra (2011-2014) and has conducted orchestras and ensembles including the Royal Conservatoire of the Hague – School for Young Talent's Atheneum Kamerorkest, Camerata XXI Chamber Orchestra in the 36th Pau Casals International Festival, Orpheus Sinfonia (London) and the Conservatorio Superior de Castilla y León's New Music Ensemble.
The Yehudi Menuhin School
Yehudi Menuhin founded his famous school in England to provide the environment and tuition for musically gifted children from all over the world to pursue their love of music, develop their musical potential, and achieve standards of performance on stringed instruments and piano at the highest level.
Many distinguished musicians have taught at the School and given master classes, including Nadia Boulanger, Zakhar Bron, Nikolai Demidenko, Paul Ellison, Mauricio Fuks, Bernard Greenhouse, Gary Hoffman, John Lill, Jeremy Menuhin, Murray Perahia, Vlado Perlemuter, Itzhak Perlman, Mstislav Rostropovitch, Andras Schiff and Dora Schwarzberg.
After nearly 50 years the School now has an extensive list of illustrious former pupils which include the violinists Tasmin Little, Nigel Kennedy, Nicola Benedetti and Alina Ibragimova; cellists Colin Carr and Paul Watkins; pianists Melvyn Tan, Kathryn Stott and Paul Coker; the Endellion, Vellinger and Belcea Quartets.