Following her performances of the work in Birmingham, Santiago de Compostela and London, Portuguese pianist Sofia Sarmento brings Òscar's 'Piano Variations' (2002) to the Musicordia Festival in Esposende (Portugal)
---
Young Portuguese pianist Sofia Sarmento has been a keen advocate of Òscar's 'Piano Variations' and she has performed the variations in Música en Compostela (2013), London's National Maritime Museum (2014) and, more recently, in Birmigham's Frontiers Festival 2015.
This performance of the 'Piano Variations' adds to a string of performances by pianist Nuno Marques (New York's Composers Now Festival), and Giulia Semerano (Southwark Cathedral, Trinity Laban, Cava dei Tirreni).
Pianist and educator, Sofia Sarmento was awarded the First Prize at Peter Donohoe Competition (Birmingham/UK), in 2014. She graduated with a Postgraduate Artist Diploma at Trinity Laban Conservatoire of Music and Dance, studying with Margaret Fingerhut, with whom she is furthering her studies in Birmigham in the Advanced Diploma Programme at Birmingham Conservatoire (also studying with Julian Jacobson). Sofia is a keen advocate of new music, recently participating in the Frontiers and Birtwistle Festivals and premiering works by English, Spanish, Polish and Portuguese composers.
---
25th of September – Igreja da Misericordia, Esposende, 17.00h
Programme to include works by Beethoven, Falla, Lopes-Graça and Òscar's 'Piano Variations'.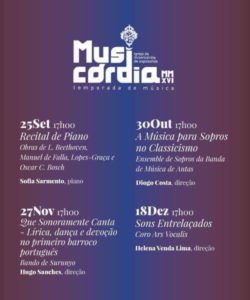 ---